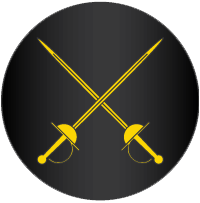 Fencing
Practices – Monday 8h00 p.m. to 10h00 p.m.
Automn and winter: The Centre Green 1090 Avenue Greene, Westmount, Québec H3Z 1Z9 map.
Summer: Girouard Park (corner Girouard and Sherbrooke West) map. Check our Facebook group in case of rain. Please note that outside practices are not official practices of the SCA and we do not assume responsibility for them.
Our practices take place every week. The admission fee is $ 5.00 per week for fencing and armored combat. There is no charge for external practices. You are all welcome!
Equipment rental: Please contact the officer in charge for more details. You must have athletic support (Jockstrap) to participate in fencing and armored combat.
IMPORTANT MESSAGE!!!
Hello Fencers!
There is soon to be a new update to the Society Rapier rules that will require off the head helmet inspection. Padding or an appropriate suspension system will be required from the time it is published. Start checking your gear now to update it before it is mandatory.
The details can be found here: http://rapier.eastkingdom.org/from-the-master-laertes-deputy-society-marshal-rapier/
Master Borujin Acilaldai
Deputy of Fence
Tir Mara West
"When I was a boy I dreamt of being Robin Hood on one of the Merry Men's epic swashbuckling adventures. In my mind I was in the tower getting shot at by archers, vanquishing Guy of Gisborne in the forest and saving the lives of those who could not fight for themselves. Almost every later hero, from D'Artagnan to Zorro to Scaramouche owes a great debt to those Robin Hood tales of derring-do (daring to do). Even Mal, the anti-hero, picks up a sword at some point in his adventures.

Ever since, I always wanted a chance to pick up a sword "with the gift of laughter and a sense that the world was mad" but without the bloodshed. The SCA has given me that chance, and I know my friends and I would love to share the love of steel with you. "
– Don John Radburn