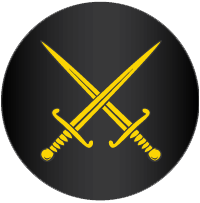 Armored combat
A word from your marshal
The knightly arts of armored combat is what we portray. Be you interested in swinging a great sword at your opponent, exchanging blows in the attempt of breaking his defenses or even wield a great hafted weapon this is the place to come! We do not pad our weapons but instead chose the route of wearing armor to protect ourselves from the blows. Our weapons are made out of rattan, a wood that has the benefit of "brooming" instead of splintering when it breaks, while our armours are made in a variety of protective materials, be it very modern plastic and balistic compound or leather and steel. This allows us to portray a vast segment of warrior societies, from the typical chainmailed Norman to the japanese samurai, by way of the heavily plated late medieval knights.
The basic rules we use can be found at http://marshal.eastkingdom.org/marshals.html on the East Kingdom website and you can get in touch with me at Knight Marshal (marshal (at) dragondormant.eastkingdom.org).
We tend to coordinate our practices via Facebook. If this is not an option for you get in touch with me via the aforementioned email or the baronial mailing list and we'll get together.
Marshall, IDD
Practices – On Thursday around 18h30, please reach out to Olivier Comeau (Holev Disgratiov)  by email (holevhellequin@hotmail.ca) for the addresse.  
Equipment rental: Please contact the officer in charge for more details. You must have athletic support (Jockstrap) to participate in fencing and armored combat.