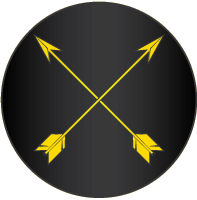 Archery
Practices – Tuesday 7h30 p.m. to 10h00 p.m.
Wesley United church (basement) 5964 Avenue Notre-Dame-de-Grâce, Montréal, QC H4A 1N1 – map
Archery is open to anyone, all you need is to take our safety class and you're good to go. Children must be accompanied by a parent or guardian. It's $5.00 per week plus an additional $2 for equipment rental.
For any information regarding archery practice, please contact the Captain of Archers.
To know your rank, go to the archers website of East Kingdom.
Ranking Badges
| Badge | Rank | Average |
| --- | --- | --- |
| | Archer | 0 - 39 |
| | Marksman | 40 - 59 |
| | Bownman | 60 - 79 |
| | Master Bowman | 80 - 99 |
| | Grand Master Bowman | 100 - 120 |