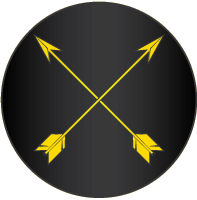 Archery
Practices – Tuesday 8h00 p.m. to 10h30 p.m.
Please, take note that all the practices will change location for everyone starting june 4th 2019 : Archery, heavy combat and fencing. The new location will be at "Sports de combats" 5335 Avenue Casgrain, Montréal, QC H2T 1X4. Click here for the map.
Archery is open to anyone, all you need is to take our safety class and you're good to go. Children must be accompanied by a parent or guardian. It's $7.00 per week. You can also get a season pass for 80 dollars.
For any information regarding archery practice, please contact the Captain of Archers.
To know your rank, go to the archers website of East Kingdom.
Ranking Badges
| Badge | Rank | Average |
| --- | --- | --- |
| | Archer | 0 - 39 |
| | Marksman | 40 - 59 |
| | Bownman | 60 - 79 |
| | Master Bowman | 80 - 99 |
| | Grand Master Bowman | 100 - 120 |