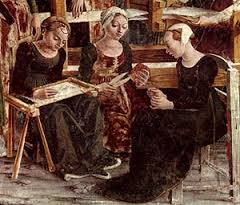 Scriptorium
Scriptorium
Greetings and well met to all who would like to learn more about the scribal arts! Whether you are just interested in learning more about calligraphy and illumination(C&I) or you want to become an East Kingdom Scribe, this is the place for you. This scribal group or 'scriptorium' was founded primarily to teach C&I and to nurture new East Kingdom scribes in IDD. It also aspires to increase friendly discourse and exchange with the scribes of other groups here in Tir Mara and the East.
As your scribal facilitator or 'armarius', I would love to teach or arrange for specific classes to be taught in calligraphy, illumination, or a related art technique by request. In addition, one class in a common scribal technique will be held at least every two months and will be posted on the IDD calendar. Also, practice kits for both basic Illumination and Calligraphy are available for use by request, but must be checked out.
This scriptorium adheres to the common scribal practices of the East Kingdom, and everyone is welcome. It is open to both new, curious gentles and those wanting to become registered scribes with the kingdom of the East. So please come have fun scribbling with us! We'd love to hear from you.
~ Lady Borujin Acilaldai
IDD Armarius